Installation Location
Determining coriolis mass flow controller Location
When selecting the installation location follow these rules:
There should be no strong vibration, high temperatures or strong magnetic fields at the installation. Therefore, do not install the coriolis mass flow controller close to transformers, power units and other mechanisms that create vibration and electromagnetic interference.
The coriolis controller should not be installed in any strained sections of the pipeline and should not be used as a pillar for the pipeline.
It is recommended to provide moisture protection for the coriolis controller.
Coriolis flow controller should be installed in easily accessible locations. Free space around the coriolis flow controller should be provided for easy installation and maintenance.
Display of the coriolis gas flow meter should be installed where it is convenient for the operator to read the displayed data.
The installation location of the coriolis gas flow meter should be selected to ensure a minimum temperature of the transmitter's surface. In direct sunlight the surface temperature may rise by up to 30 degrees compared to the ambient temperature, so if installation in the shade is not possible, it is recommended to use a sunshade.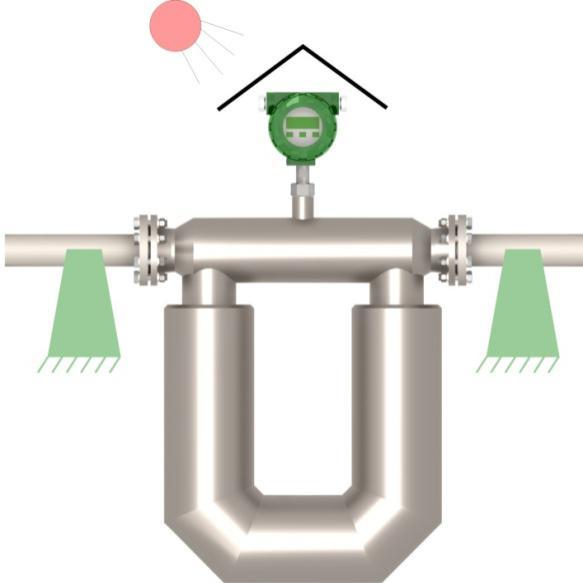 CAUTION!
If there is strong vibration or the pipeline is strained at the installation location, uou must provide external support for the pipeline before and after the coriolis mass flow meter. The support base must be firmly attached to a rigid structure.